Art Prints
Choice of Matte or Glossy Paper
Create Fine Art Prints or Posters
The Best Printer
Our manufacturer use an 11 color Epson printer with Epson Ultrachrome HDX pigment inks. These museum quality inks feature print permanence ratings of up to 200 years and are extremely resistant to humidity, UV, and atmospheric Ozone.
Fine Art Prints
Hahnemühle Photo Rag paper
Matte finish, textured surface with no glare
Paper weight of 310 gsm
Bright white
Perfect for framing, for portraits and wedding photos
Resistant to scratches and fingerprints
Border options for fine art prints
Since our fine art prints are perfect for framing, we offer border options ranging from 1" to 2".

How the border works
Your image is scaled down to leave place for the border. This means that the paper size will always be the size that you order, no matter the size of the border that you choose. A 1" border means that your artwork will be scaled down to leave approximately 1" on each side.
Posters
Breathing Color photo paper
Glossy finish, coated smooth shiny surface
Paper weight of 300 gsm
Optic White
Vibrant color prints with with deep black
Susceptible to fingerprints or bends; handle with care
Wood Prints
Due to the natural properties of wood, every wood canvas will be unique. The wood grain is always different panel to panel. Lighter colors in your artwork will be more transparent and show more grain through the ink than darker colors. Darker colors will be less opaque and show less grain.

No white (Above)
Any white in your design will show as the wood grain
Darker areas or areas of heavy detail will print darker than you see on your screen
There will be a warm look to your print since the colour of the wood will give your colours a warmer tone. Blues in your artwork may take on a turqoise/green tint
This setting is ideal for highlighting the difference between printing on wood and printing on paper. Printing on wood gives you a unique one-of-a-kind pieces each time since every wood canvas is different.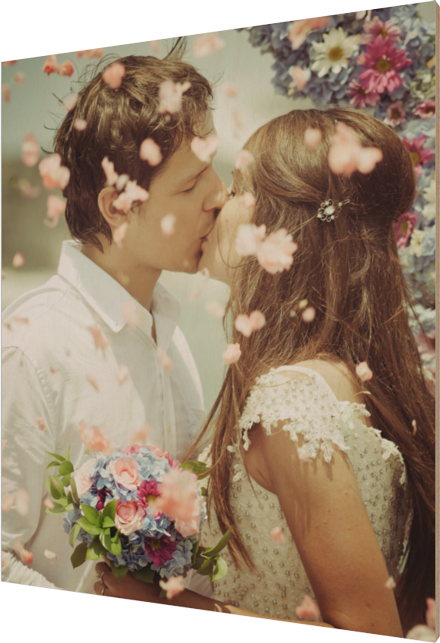 Printing with White Ink (Above)
White in your artwork will print white ink on the wood canvas.
Our white ink still allows the wood grain to be seen through the ink by about 50%
Darker areas will be highlighted with white for increased details
Ideal for photographs and detailed artwork
 Great Display
They are ready to hang out of the box! Our wood canvases have a 4 panel frame in back that makes hanging your print quick and easy.
Thickness
Each of our sizes are available as 1" or 1.5" thick depending on your preference.
Durable Print
Easy care and durable print. While its still best to not touch your print if you don't have to, your print can be rubbed with a dry or damp clean cloth to clean of any dirt or dust.
Available in 16 sizes
We offer 3 different standard ratios, each available in 4 sizes.
| 1:1 | 3:2 | 4:3 |
| --- | --- | --- |
| 12" x 12" | 12" x 8" | 10" x 7.5" |
| 16" x 16" | 18" x 12" | 16" x 12" |
| 20" x 20" | 24" x 16" | 24" x 18" |
| 24" x 24" | 30" x 20" | 32" x 24" |
As well as some fixed sizes
8"x10"     11"x14"   16"x20"   20"x24" 
---